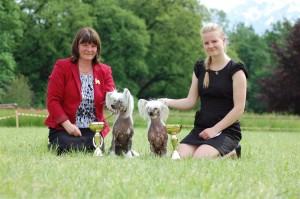 Vi som har kennel Neddies heter Annica Carlsson och Anna Carlsson, vi bor i Karlskoga. Hundar har alltid varit vårt största intresse sedan vi båda var mycket små. När jag Annica var tio år fick jag min första hund en Phalene, som jag tog en valpkull efter och sparade en tik.
Senare i livet när jag fick barn var min dotter Annas största dröm att få en hund. När min man såg på när Anna och grannens valp lekte blev det bestämt, vi köpte en Bichon Frise. Vi blev ganska fort fast vid hundutställningar. Där upptäckte vi rasen Chinese Crested och jag sa till min dotter att en sådan hund ska vi ha! Vi fick köpa vår första Chinese Crested 2007, vi älskade rasen så mycket att vi var tvungna att köpa en till! Sedan rullade det bara på med hundar.
Vi är en familj på fem personer, min dotter, två söner och min man. Vi gillar även att aktivera hundarna olika sporter, vi har provat på det mesta men agility och rallylydnad är det vi fokuserat mest på.
We who have kennel Neddies are Annica Carlsson, Anna Carlsson, we live in Karlskoga in Sweden. Dogs have always been our greatest interest, since we both were very small. When I (Annica) was ten I got my first dog a Phalène, I took a litter on her and saved a bitch.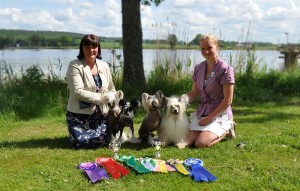 Later in life when I had children was my daughter Anna's biggest dream to get a dog. When my husband saw Anna and the neighbor's puppy playing, it was decided, we bought a Bichon Frise. We started to love dog shows. There we discovered the breed Chinese Crested and I told my daughter that we are going to by that breed! We bought our first Chinese Crested 2007, we loved the breed so much that we had to buy another one! Then crested after crested come. We are a family of five people, my daughter, two sons and my husband. The dogs are also activated in agility and freestyle.